Bake Deliciously! Gluten and Dairy Free Cookbook
If you are looking for a GO TO cookbook for every baked item you can think of, look no further. This cookbook contains over 150 triple-tested recipes emphasizing whole, unprocessed foods.
Finally, make quick breads, yeast breads, muffins, cakes, pizza, focaccia, cookies, crackers, custards, souffles, chocolate goodies, brownies, bars, pies, glorious desserts, buns, English muffins, crisps, breadsticks, breakfast treats, savory meals and more!
Bake Deliciously! has triple-tested recipes with step-by-step instruction and beautiful pictures of the finished product. Most recipes are finished in less than five easy steps. The book contains baking tips and substitutions for other allergens. You will learn how to use a lot of ingredients you may not be familiar with, and to create baked items your whole family will love.
"Bake Deliciously! Gluten and Dairy Free will make you reevaluate what you thought you knew about GFCF diets! Dr. Jean Duane's innovative ideas, paired with taste-bud tingling images, will inspire you to set off on a culinary journey that your whole family can take part in. From cheesecake to cheese crackers, apple pie to pizza, this cookbook transforms dietary limits into options, options, options! With Jean's guidance, the GFCF lifestyle can be one that provides infinite food choices as well as a more healthful way of life for all involved."
Kelly Gilpin, Editorial Director, Future Horizons

Never before has baking without gluten, dairy or other allergens been so EASY! Make beautiful cakes such as:
Red Velvet Cake with White Icing
Lemon Chiffon Cake with Marshmallow Cream Icing
Almond Apricot Bundt Cake with Apricot Glaze
Yellow Layered Cake with Raspberry Filling and Chocolate Tahini Icing
Applesauce Cake with Cream Cheese Frosting
Cheesecake with Glazed Strawberries
Flourless Chocolate Cake
Luscious Lemon Lady Finger Cake
Angel Food Cake
Lemon Angel Food Cake with Lemon Cream Icing
Devilish Chocolate Layered Cake with Marshmallow Filling
and Chocolate Avocado Icing
Baked Alaska with Meringue Icing
Chocolate, Chocolate Chip Angel Food Cake
Strawberry Cupcakes with Cashew Cream Icing
Orange Cupcakes with Orange Icing
Lemon Bliss Cupcakes with Lemon Glaze

"Bake Deliciously! Gluten and Dairy Free is a great source of recipes using healthier ingredients and methods to also make them nutritious lower in cholesterol and encourages the use of healthier GF grains. I love that all the recipes are easily made using very few steps. This is a great book for anyone new to gluten-free, dairy-free baking."
Cynthia Kupper, RD, Executive Director, Gluten Intolerance Group of North America

In the mood for cookies? This cookbook gives you the basics, but it doesn't stop there! There are many innovative, fun recipes you and your family will enjoy over and over such as:
Oatmeal Chocolate Raisin Cookies (Vegan)
Peanut Butter Cookies
Sugar Cookies
Jammie Sammies
Snickerdoodles
Lemon Zesties (Vegan)
Vanilla Thins (Vegan)
Chocolate Sandwiches (Vegan)
Chocolate Chip Cookies (Vegan)
Brown Sugar Cookies
Chocolate Cookies (Vegan)
Comparison: Chocolate Cookies: Organic Sugar versus Xylitol
Russian Tea Cakes (Vegan)
Gingerbirds / Gingersnaps
Pecan Sandies
Meringue Cookies
Hazelnut Meringue Cookies
Chinese Almond Cookies (Vegan)
Pinwheels
Chocolate Dreams
Comparison: Chocolate Dreams: Stevia versus Organic Cane Sugar

"Bake Deliciously! Gluten and Dairy Free provides a wealth of information about many different ingredients. It is a good reference book that answers many questions. It meets many markets for special needs including vegan. I really like the photos of the products using different ingredients to give the user an idea what happens when you alter a product's ingredients. The book offers a wide variety of baked goods, breads and breakfast items which will leave the consumer satisfied with many delicious choices that are comparable to traditional recipes. The photos of the products look appetizing and enticing to prepare."
Renee Zonka, CEC, RD, CHE, MBA, Associate Dean of Culinary/Kendall College.

Gluten-free breads and muffins can be a real challenge and then making it dairy-free compounds the effort. This book makes baking a bread a breeze, from yeast to quick breads, you'll find your favorites here.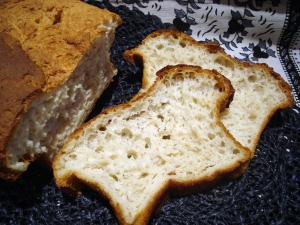 Blueberry Buckle Muffins
Gingerbread Muffins
Carrot Raisin Muffins (Vegan)
Banana Muffins (Vegan)
Cornbread Muffins
Confetti Cornbread Muffins
Teff Muffins with Herbs
Zesty Dinner Muffins (Vegan)
Cranberry Walnut Bread
Pumpkin Spice Bread
Pumpkin Spice Bread (Vegan)
Comparison: Pumpkin Spice Bread: Egg Whites versus Soy Protein Isolate
Lemon Poppy Seed Bread
Cinnamon Raisin Bread
No Yeast Montina Sandwich Bread
No Yeast Whole Grain Buns (Vegan)
Everyday Whole Grain Bread
Everyday Whole Grain Bread (Vegan)
Comparison: Everyday Whole Grain Bread: Egg Whites versus Soy Protein Isolate
Light, White Sandwich Bread
French Bread
Comparison: French Bread: Tapioca Flour versus Expandex"
GF Rye Bread (Vegan)
Pizza
Focaccia
Croutons

Once again, Dr. Jean Duane makes cooking for our kids and adults on the Autism spectrum simple, easy and tasty too! With step-by-step instructions, baking gluten-free and dairy-free has never been this fun. If you re looking for a passionate and delicious way to connect with those you love, this is a MUST READ!
Karen Simmons, Founder & CEO, Autism Today
Co-Author, Chicken Soup for the Soul, Children with Special Needs

Did somebody say desserts? This book has some of the most tasty, delicious, innovative desserts you'll ever make, such as: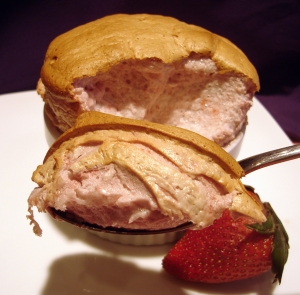 Strawberry Soufflés
Mocha Soufflés
Chocolate Attack with Chocolate Pudding and Whipped Cream (Vegan)
Elegant Bread Pudding with Sweet Cashew Cream Sauce
Comparison: Elegant Bread Pudding: Egg Whites versus Nut or Seed Cream
Apple Cherry Bread Pudding
Lady Fingers
Fruit Custard
Baked Custard
Chocolate Roll
You'll discover the secret technique to make luscious, rich cream pies with seeds or nuts. It is absolutely amazing how good these are!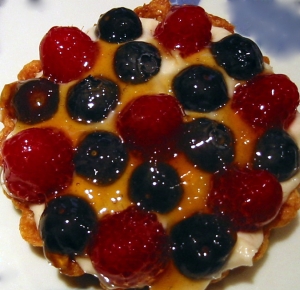 Hazelnut Cream Pie with Chocolate Crust
Berry Cream Tarts with Peach Glaze
Apple Pie with Crumble Topping
Orange Cream Pie with Chocolate Cookie Pie Crust (Vegan)
Banana Cream Pie with Meringue Icing
Peanut Butter Chocolate Pie (Vegan)
Corn Flake Crust
Mini Lemon Tarts
Pumpkin Pudding Squares
Cherry Crisp
Apple Crisp
Ice Cream Pie with Brownie Pie Crust
Vanilla Thins Pie Crust
Lemon Zesties Pie Crust (Vegan)
Perfect Pie Crust (Vegan)
"When I met Jean five years ago, I was really impressed with her creative solutions to baking without dairy. Now that she has turned her talents to gluten-free baking, I am completely in awe. Not only have all of the recipes been meticulously planned and tested, but they come from a positive and generous spirit. There is no deprivation in Jean Duane's world; there is just great-tasting food."
Cindy Gawel, Pastry Chef/Owner, Bête Noire Chocolates

Breakfast can be a hurdle for those on special diets, but not any more! This book offers a delightful array of great breakfast foods you'll enjoy with your family and on special occasions.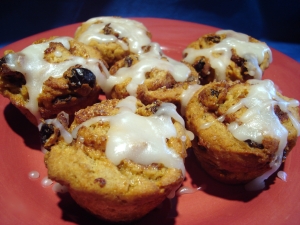 Upside Down Coffee Cake with Whipped Topping
Glazed Apple Sticky Buns
Chocolate Chip Scones
Cheese Puffs
Popovers
Granola
English Muffins
Bountiful Breakfast Bites
Berry Good Cereal
Baked Apples
Rice Pudding
Jelly Roll
Fantastic French Toast
Still thinking about it -- consider this. It's not just a book full of recipes. It has a lot of helpful information for the newly diagnosed as well as up-to-date new information for the diet veteran. You'll find out how to economically stock your pantry, a complete overview of the Art and Science of Baking GFCF. You'll be empowered (and confident) to convert favorite, traditional recipes. You'll understand how to make logical substitutions for allergens as well as an overview of how to avoid cross contamination and how to cook safely. It might be the most comprehensive cookbook on gluten and dairy-free baking on the market.
What makes Bake Deliciously! Gluten and
Dairy Free Unique - Top Eleven Reasons
Over 150 triple-tested baked recipes of favorite baked goods and most are completed in 5 or less steps.
All recipes focus on whole, unprocessed flour mixes.
Other gluten-free cookbooks use flour mixes of refined starches in the form of cornstarch, tapioca flour, sweet rice flour, arrowroot or potato starch in percentages as high as 60-75%! Starch is a necessary evil in a lot of gluten-free baking and recipes in this book were formulated with the goal of 25% or less refined starches. Some recipes in Bake Deliciously! Gluten and Dairy Free are 100% whole grain.
Over 50 pages of helpful information for the newly diagnosed such as:

How to Stock Your Pantry
GFCF Basics
Substitutions for Dairy and Gluten
How to Convert a Family Favorite Recipe
The Art and Science of GFCF Baking
Essential GFCF Baking Tips
Cross Contact / Cross Contamination
Safe Food Practices
Time and Money Savings

Substitutions for common allergens that work.
The recipes were developed using gluten and dairy free ingredients. Often in gluten-free cookbooks, dairy-free is an afterthought. These recipes were all developed dairy-free.
Bake Deliciously! Gluten and Dairy Free contains 68 vegan recipes developed without eggs or dairy. Egg substitutions can be used successfully in most other recipes.
Ingredient comparisons are given throughout the cookbook. You'll see what happens when you substitute one ingredient for another, see a photo of the results and read my notes. This will save you tons of time, trials and yes, errors in your baking. I've done the work for you!
Over 125 photos with an 8-page glossy color insert, so you can see what the finished result looks like.
Wet and Dry ingredients are separated, so you can pre-measure the Dry ingredients in advance, label the bag with the page number from the cookbook to bake treats FAST!
Bake Deliciously! Gluten and Dairy Free is your GO TO cookbook for anything you'll want to bake.