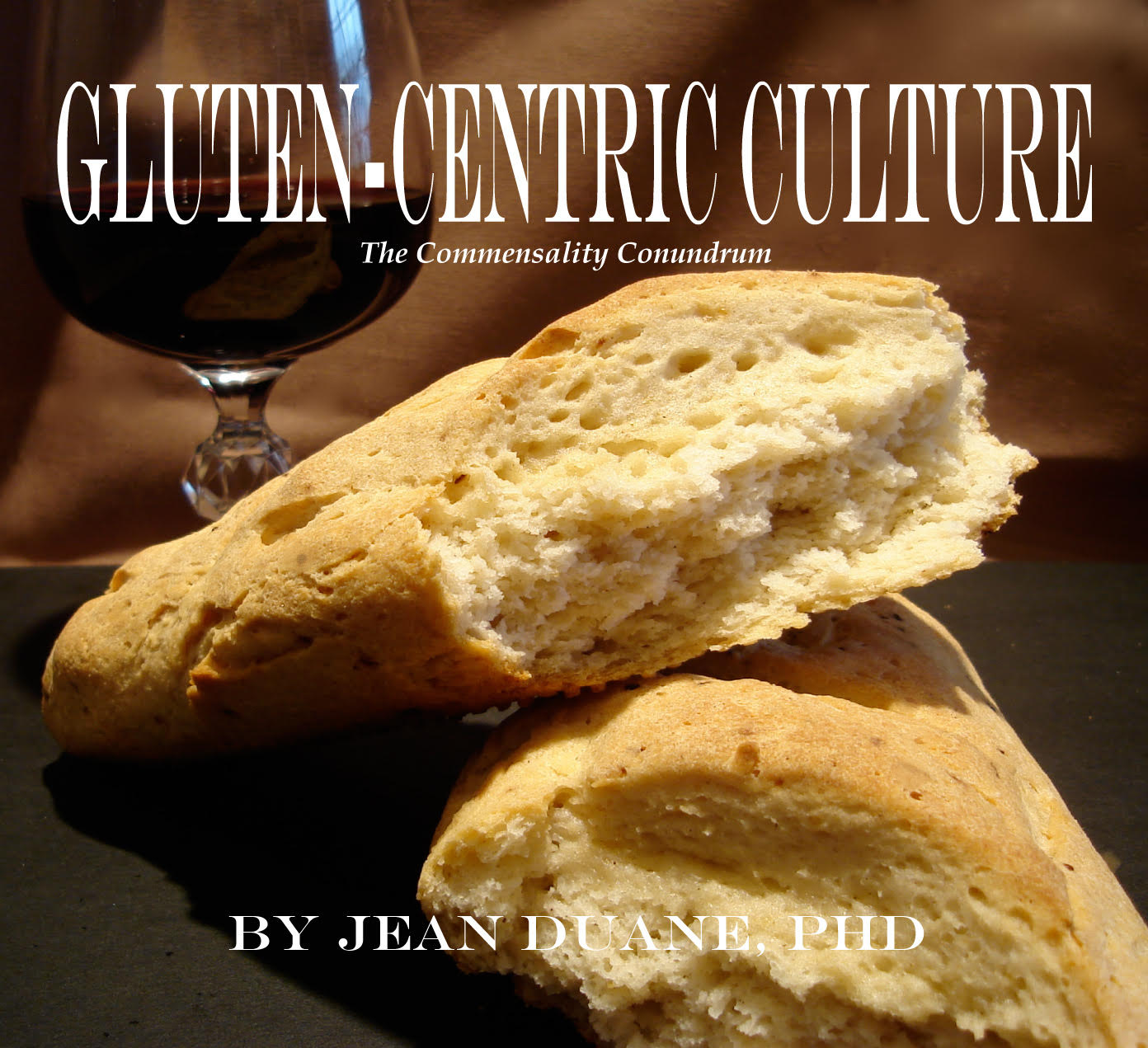 Ways Gluten-Centric Culture Book Will Enhance Your Life
Gain an understanding of our gluten-centric culture as described by over 600 study participants nation-wide.
Learn how the Church, the Government, Rules of Etiquette, Celebrities and others perpetuate cultural insensitivity to gluten.
Understand how someone's definition of what is "true" affects you in your everyday life.
Learn mitigating strategies to help you navigate social situations smoothly.
See how others living the gluten-free lifestyle have transformed their lives.
Understand empowering practices to use to transform your own life to live gracefully with food sensitivities.
Read The Chapters
One chapter appears in each edition of the quarterly publication Journal of Gluten Sensitivity (starting February, 2021). To read the chapters, please click below:

Chapter 1 – Are You Kidding?
Please Click Here to Read Chapter 1
Chapter 2 – Ideologies in our Gluten-Centric Society.
Please Click Here to Read Chapter 2
Chapter 3 – Where Ideologies Collide in Public Settings,
Please Click Here to Read Chapter 3
Chapter 4 – The Body Battleground,
Please Click Here to Read Chapter 4
Chapter 5 – Grabbing a Bite Together / The Commensality Conundrum, Coming Spring 2022
Chapter 6 – From Shaky Ground to the Homeostatic Shift, Coming Summer 2022
Chapter 7 – Individual Transformation, Coming Fall, 2022
Chapter 8 – New Language Helps, Coming Winter, 2022
Chapter 9 – Sharing the Wealth, Coming Spring, 2023
Chapter 10 – Taking Action, Coming Summer, 2023
Interactive Discussion Groups With Dr. Duane
Please join us to discuss the chapters. Learn how to apply the concepts from the book to your everyday life to navigate social situations gracefully. You'll learn how to adopt an empowering perspective, identify ideologies that have stood in your way, and develop strategies for how to approach difficult scenarios. These lively discussions last between 1.5-2 hours.
Commensality, or the act of eating in a social setting, presents a conundrum for those with food sensitivities or celiac disease because of our gluten-centric culture. From birthday parties to taking communion, gluten-containing foods such as cake and bread are central to celebrations and rituals. This informative book presents the results of a nationwide, intensive study of the social aspects of living with food sensitivities or celiac disease incorporating data from over 600 survey participants and nearly 70 in-depth interviews. Dr. Duane explains how cultural ideologies such as religious beliefs and practices, the popular media, the government, corporations, and rules of etiquette affect how someone with food sensitivities or celiac disease navigates various aspects of social life. Dr. Duane examines situations in venues such as the dinner table, church, school, the medical examination room, restaurants, (and even the bedroom!), to illustrate how cultural practices affect those with food sensitivities and celiac disease. Throughout, Dr. Duane intersperses stories highlighting personal challenges and conflicts described by study participants. Readers gain a deeper understanding of cultural influences that subjugate those living with food sensitivities or celiac disease in this illuminating, sometimes humorous, and often surprising work.
Jean Duane, PhD
Dr. Jean Duane is a social scientist who focuses on researching the social aspects of food/gluten sensitivities and celiac disease. She wrote Bake Deliciously! Gluten and Dairy Free Cookbook and The Complete Idiot's Guide to Gluten Free Cooking Cookbook.
"Once I conducted an applied study, I found it shocking how living with gluten-sensitivity affects nearly every aspect of daily life. From the in-depth interviews, I learned how people have adapted and even transformed their lifestyle to gracefully live within the constraints imposed by gluten avoidance. Now I want to share what I learned with you." -Dr. Jean Duane